Blockchain for Finance - SPA Supporting Organization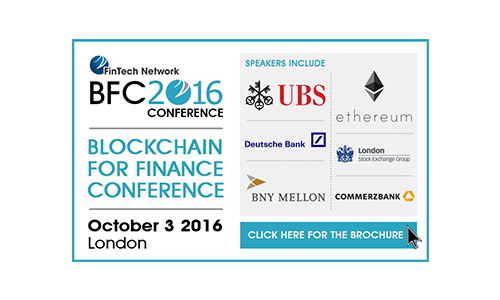 London, 3rd October 2016
This October, the Smart Payment Association will be a partner at the inaugural Blockchain for Finance Conference on October 3rd in London joining leading financial institutions and service providers to discuss the potential role of blockchain technology in payment modernisation.

Digital currencies and the blockchain in particular have the potential to significantly shake up payments and the conference will help all attendees to:

• Address the drivers for change in payments and the areas of opportunity to modernise and improve efficiencies

• Understand more about emerging payment technologies and the role that blockchain may be able to play within this

• Review the ways that blockchain could provide a faster, cheaper and more transparent payment system You will hear from BNY Mellon, RBS, Deutsche Bank, Ethereum, Bank of Ireland, Commerzbank, Intesa Sanpaolo, Rabobank and more to see how they're preparing for blockchain implementation.

Download the conference brochure now for more information: https://bit.ly/BlockchainSPA

All SPA members will receive a 10% discount on advertised prices – please use the discount code SPA10 when booking.


Conference Objective

Explore use cases for blockchain and exploit the opportunity to facilitate fast, efficient and secure transfer of assets

Conference Content

• Embracing Blockchain: Cut through the hype to see how distributed ledger technology could provide a transformative opportunity to eradicate antiquated systems and processes within your organisation

• Use Cases: Investigate use cases including payments, settlements, KYC, AML, blockchain as a service and identity management to see how financial institutions can exploit blockchain

• Regulatory Environment: Hear how distributed ledgers could improve transparency, audit trails and transaction reporting to ease regulatory and compliance processes

• Technology Hurdles: Address concerns around performance, scalability and blockchain infrastructure to alleviate trepidations surrounding blockchain implementation

• Other Blockchain Experience: Learn from companies operating outside of finance to see how you can save money, time and resources by implementing blockchain in your business